Fraudsters continue to adjust their strategies to fraud people out of money. In this fictitious example, the scammer sends thousands of text messages to random people in Peoria hoping that the text message reaches at least one Better Banks customer. If the text message reaches a Better Banks customer and they respond back by answering 'NO,' the fraudster promptly calls the unsuspecting person and impersonates a Better Banks fraud specialist. Not only does the fraudster say they are from Better Banks, caller-ID also reports that the call is coming from Better Banks. They then ask for confidential information to confirm that the person is authorized on the account.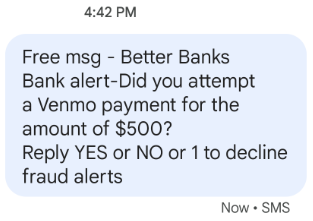 If you receive a text like this, here are a few things to consider:
If a link is included in the text message, do NOT click on the link.
Have you used your debit or credit card recently AND does the information on the text message match your recent purchase. If so, respond with 'YES' to confirm the purchase.
If you haven't used your card recently and you don't recognize the transaction, respond with 'NO.'

If the text message is legitimate, the bank will respond with another text message that thanks you for confirming the activity.
If the text message is NOT legitimate, the fraudster will call your cell phone and attempt to collect private information about you and your account. Hang up and call the bank immediately.
At any time, if you have concerns about the activity on your debit or credit card, please call the phone number printed on the back of your card or contact the Bank directly at 309.272.1000.