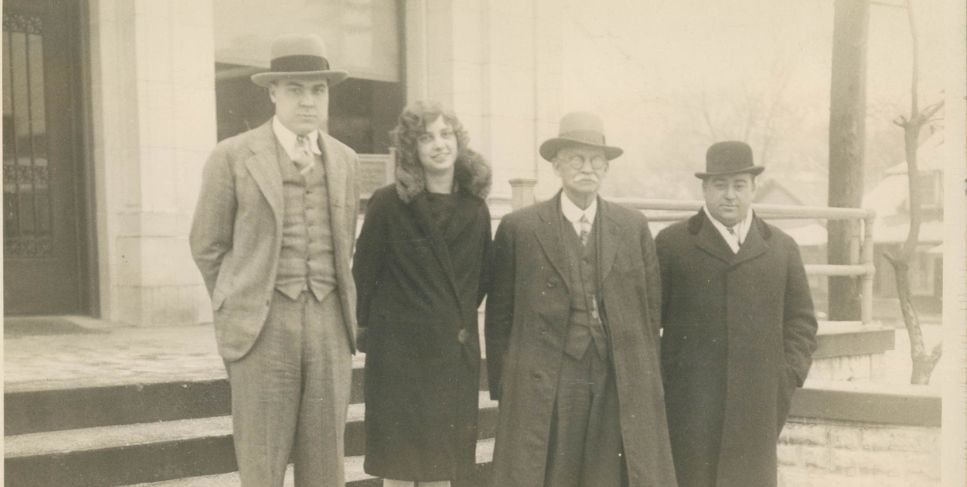 Banking Made Better
Since 1898
The rich history of Better Banks dates back to 1898 with the founding of Dunlap Bank. Since then we've expanded to 9 communities serving Peoria, Dunlap, Morton, Chillicothe, Bartonville, Wyoming, Astoria, Glasford and Mapleton. We continue to remain true to our founders philosophy to "remain a strong, locally owned, community bank" with a full line of financial solutions aimed at providing efficient, convenient and friendly service so you can spend more time doing what you love.
In 1957, B.F. "Chip" Backlund, a Senior Bank Examiner, joined Dunlap Bank as an Executive Vice President. He became President of the bank in 1967 and later Chairman. Chip could see the importance and need for locally owned community banks and organized the purchase of Glasford State Bank in 1965, Wyoming Bank in 1967, Bartonville Bank in 1970 and Farmers State Bank in Astoria in 1979.
Better Banks has deep roots and as we grow, we continually reflect on our history and how it has brought us to where we are today.
Bartonville Bank, founded in 1918, and Wyoming Bank founded in 1935, boasted the same banking philosophy as Dunlap; to be pillars of strength and stability and serve the banking needs of their respective communities with loyalty, honesty and dignity.
Seeing the need for additional locations, enhanced services and more products, Steve Backlund, Chip's youngest son, directed the opening of the Bartonville Bank II on Garfield in 1982 and Dunlap Bank II on North Knoxville in Peoria in 1990. Steve organized the purchase of the First National Bank of Chillicothe in 2014 and the opening of the Morton location in 2017.
Glasford Bank merged with Better Banks in 2022. Better Banks and Glasford Bank were both part of the holding company, Backlund Investment Company, established by Steve Backlund in 2003.
While further strengthening the bank overall, the combinations of the banks allow us to offer customers an enhanced line of products and services while providing additional locations and ATMs for added convenience.
1898 – Dunlap Bank formed in Dunlap, IL.
1933 – Dunlap Bank remained open during President Roosevelt's 4-day banking holiday. (Also known as the Emergency Banking Act of 1933)
1957 – B.F "Chip" Backlund, former Senior Bank Examiner, joined Dunlap Bank as Executive Vice President.
1967 - Chip Backlund became president of Dunlap Bank and purchased Wyoming Bank. (founded in 1935 in Wyoming, IL)
1970 – Bartonville Bank, founded in 1918 in Bartonville, IL, joined Dunlap and Wyoming Bank.
1986-1992 – Chip Backlund served on the board of directors of the Federal Reserve Bank of Chicago.
1979 – Steve Backlund, Chip's youngest son, joined Dunlap Bank.
1981 – Steve Backlund was named Vice President of Dunlap and Bartonville Banks.
1982 – Bartonville Bank opened a second location on Garfield Avenue in Bartonville.
1990 – Dunlap Bank opened a second location on North Knoxville Avenue in Peoria.
2002 – Steve Backlund named CEO and Chairman of Bartonville Bank.
2003 – Backlund Investment Company was formed as the holding company for Dunlap, Bartonville and Wyoming Banks.
2004 – Dunlap and Bartonville Banks were combined to form Better Banks.
2006 – Wyoming Bank joined the Better Banks group.
2011 – Farmer's State Bank of Astoria joined Better Banks.
2014 – First National Bank of Chillicothe was acquired and became a Better Banks branch.
2016 – Mike Stratton was named President of Better Banks.
2017 – Better Banks opened its 8th branch in Morton.
2022 – Glasford State Bank joined Better Banks, adding two additional branch locations.